Best live auction software on the market
Auctioneers have been long searching for an online auction software that is easy-to-use, bidder-friendly, modern and feature rich.
Stream industry leading Live Webcast Auctions with HD Video and Audio options
Conduct Set and forget easy Timed Auctions at will.
Easy for bidders and designed to be the best available live auction software on the market.
Our software provides a white label solution through creating an exclusive auction platform that directly runs from your website. Designed for professional auctioneers and is built in the latest HTML auction software platform technologies.
It's App Free for bidders. Our auction platform allows online bidders to access live auctions without the need to downloading slow apps. Years of experience means we know what makes live auctions tick.
Auctioneers can now run full auctions from their own website platform that works seamlessly across all modern devices and browsers, promoting ease-of-access to the system across computers, laptops, tablets and cellphones.
The platform is also custom-branded in your business's colours and logos, allowing for identifiable, easy-to-use online bidding at your auctions.
Run customisable, robust and feature-rich online auctions
Our software, which includes dozens of clever features, was created for the contemporary bidder and will take your live auctions to the next level.
Our solution maximises bidding by providing complete flexibility for your online bidding community. It includes pre-bidding functionality that is available before and during an auction, as well as currency and language conversion options to open up bidding to the international bidder.
Our sophisticated screening system is intended to simplify access for your internet users.
When an item of your online bidders' interest is added to the system, you may send them personalised e-alerts every time. Categorized products also make it simple to find items on the platform.
Full support options for your live auction sales
Our live auctions are simple to operate and organise. Our support team offers comprehensive training, on-demand clerking assistance, phone and email support, email marketing, and more to provide that additional bit of assistance along the road.
To help you improve your online reputation, our skilled in-house web design and development team can produce engaging and dynamic websites.
Please use the form below to contact us if you have any questions.
Online auction solutions for your business
🎥 Live Webcast Auctions
⏳ Timed Online Auctions
📈 Marketplace
👩‍💻 Remote Clerking option
✅ Everything you need & will run from your own website
🏷 White Label Auction Software – 'value protect your bidders & IP' ( Not a group site
)
So modern works on all devices without frustrating bidders to download apps
🧑‍💻 Includes Setup, Training & Local Ongoing Support
🧾 Auction invoicing & reporting
🖥 Websites & marketing
😊 Simple for bidders and powerful for auctioneers
So ready to get started?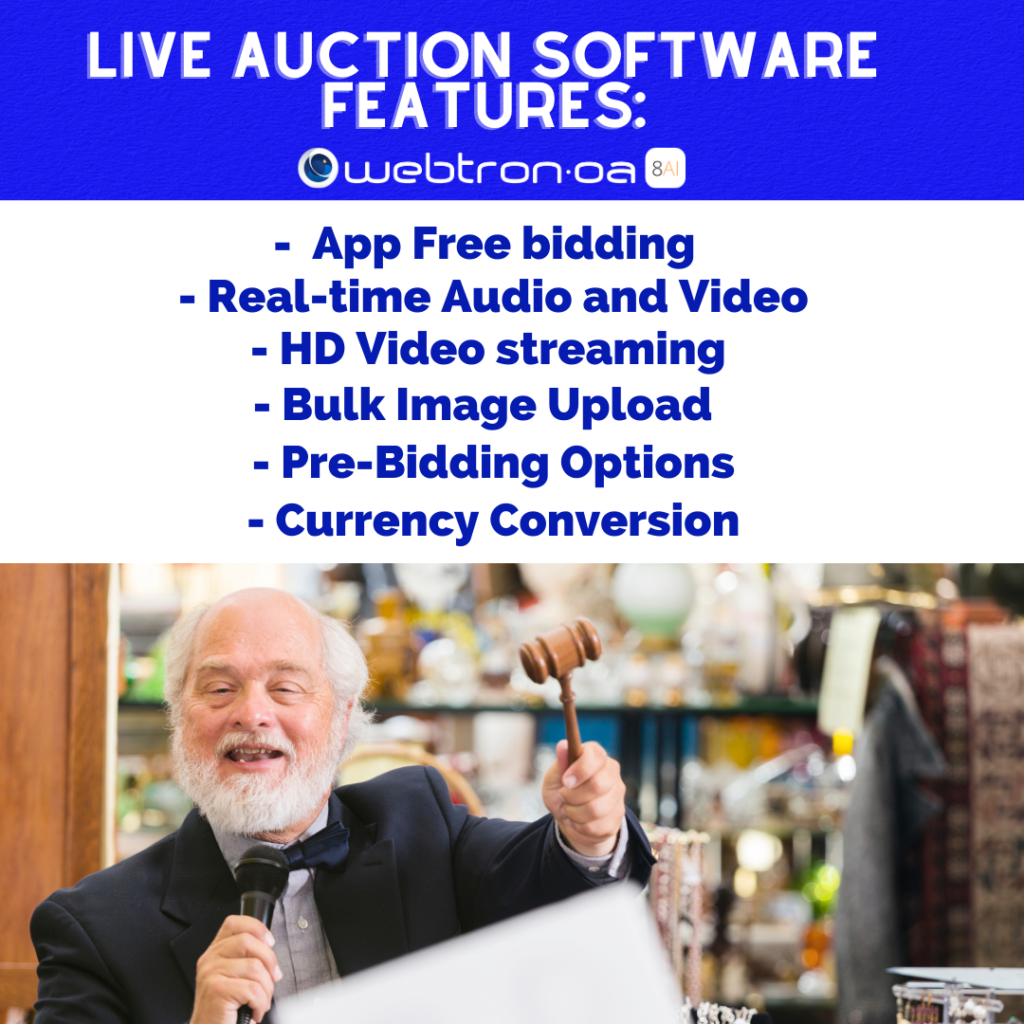 Webtron 8.0AI Auction Software is here!
There has never been a better time to upgrade to Webtron's 8.0AI newest artificial intelligence auction software release.
It has been designed for Live auctioneers like you to take your online auction business to another level. Take advantage of a white-label auction solution that runs from your own website.
It's 'Simple for bidders and powerful for auctioneers'.
Please get in touch and arrange a demo for your business.
FAQS
What is live auction software?
Live auction software is a technology solution that enables auctioneers to conduct auctions in real-time, with bidders participating remotely from any location with an internet connection. It works by providing a digital platform for auctioneers to conduct live webcast auctions online, where bidders can place bids in real-time through their computer or mobile device.
How does live auction software work?
The software allows auctioneers to display the items being auctioned, accept bids from registered bidders, and manage the bidding process. Live auction software typically includes features such as bid tracking, auction catalog creation, real-time bidding, and post-auction reporting.

The software can be used for a variety of auction types, including charity auctions, art auctions, antique auctions, clearing auctions, Industrial auctions and automotive auctions. Live auction software has become increasingly popular in recent years, particularly as the pandemic has made it difficult or impossible to conduct in-person auctions.

What are the key features of live auction software?
Real-time bidding: The software allows bidders to place bids in real-time, creating a sense of excitement and urgency during the auction.

Bid tracking and management: The software tracks all bids placed during the auction and allows auctioneers to manage the bidding process, including setting bid increments and managing bidder registration.

Auction catalog creation: The software enables auctioneers to create an online catalog of items being auctioned, including photos, descriptions, and other details.

Post-auction reporting: The software can generate reports summarizing the results of the auction, including the items sold, the final sale prices, and the winning bidders.

Customisation options: Webtron allows auctioneers to customise the software to match their branding and design preferences.

Customer support: Webtron offer customer support to help auctioneers troubleshoot any issues that may arise during the auction.

Multi-device compatibility: The software works seamlessly across different devices, including desktop computers, tablets, and mobile phones.

Integration with other tools: The software may integrate with other tools and software, such as social media, and email marketing tools.

How does the bidding process work with live auction software?
The bidding process with live auction software typically works as follows:

1. Bidders register: Bidders register for the auction through the software, providing their contact information and payment details if required.

2. Auction items are listed: The auctioneer lists the items being auctioned in the software, including descriptions, images, and starting bids.

3. The auction begins: The auctioneer begins the auction, and bidders can bid on items in real-time through the software. Bids can be placed manually or automatically through our auto bid feature. Our software also allows users to set maximum bids and receive notifications when outbid.

4. The bidding process continues: The auctioneer announces the current high bid, and bidders can continue to place bids until the auctioneer declares the item sold.

5. Payment and item pickup: The winning bidder is notified through the software, and payment and item pickup details are arranged.

Overall, live auction software can make the bidding process more efficient, convenient, and accessible for bidders, which can help auctioneers attract more bidders and increase bidding competition.